This shop has been compensated by Collective Bias, Inc. and its advertiser. All opinions are mine alone. #WatchHowIStyle #CollectiveBias
Happy Monday you guys! Can you believe it's December?! As I shared on Instagram, December is hands down, one of my favorite months of the year. Not only is it my birthday month, but the holiday season is officially here! This time of the year always reminds me to be a bit more patient, positive, and thankful for what I have. Whether you have holiday parties throughout the month, family you get to see, and/or even if it's just a much-needed break from work, chances are you have something to look forward to this month! Since holiday parties are soon to be happening, I thought I would share some of my tips for how to accessorize your holiday outfits.
Accessorizing your holiday outfits for a holiday party and the rest of the holiday season doesn't have to be a challenge! I like to feature just a couple items to use as accessories for a holiday outfit. Rose gold is one of my favorites for the holiday season. It adds just the right amount of pop and looks great on any skin tone. This Anne Klein watch I'm wearing in rose gold immediately jumped out at me when doing some holiday shopping. If rose gold isn't your thing, Anne Klein watches come in a variety of different shapes, sizes, colors, and materials to fit your needs (or a lady on your holiday shopping list). If you're local to Boston, the Macy's at Downtown Crossing is where I got this one. They have such beautiful options! The Anne Klein watch I'm wearing has rose gold tones, Swarovski crystal accents, and a mesh bracelet. Perfect for any time of year, but it jumped out to me for the holiday season because of the rose gold. Also, under $100! Plus, it's 25% off right now with the code FRIEND. You can't beat that. Keep reading below for my tips for how to accessorize your holiday outfits.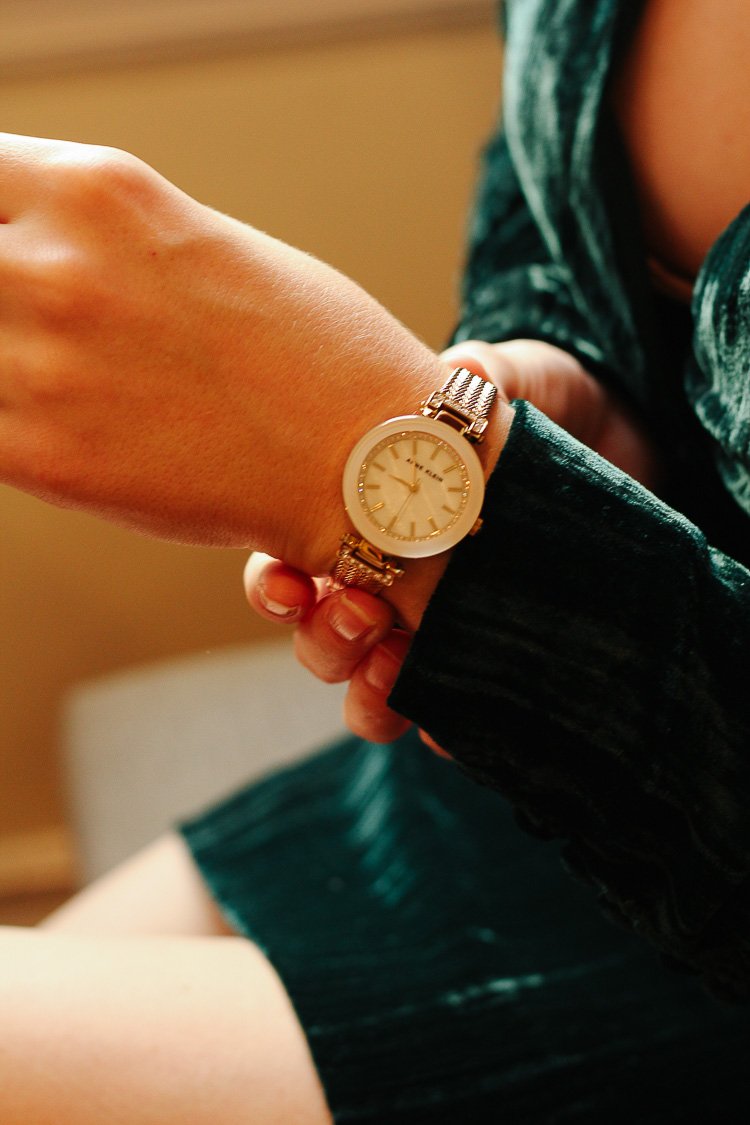 The photo above is shoppable! Click the tag in the image to shop my watch.
HOW TO ACCESSORIZE YOUR HOLIDAY OUTFITS THIS HOLIDAY SEASON
PICK A COLOR PALETTE 
I like to wear simple accessories that do the talking for me, and add to the outfit without looking over the top. Accessories should make an outfit look put together, polished, and "finished," without being the main star of the show. I almost always navigate towards gold or rose gold accents rather than silver. I'm not sure if it's because that's what my mom always wore or because I feel like it's looks better with my coloring. While there are instances where silver and gold can look great together, opt for one or the other here to keep it simple and chic.
DON'T ATTEMPT TO DO IT ALL
I know it can be tempting to do it all – statement earrings, statement necklace, large bangles, rings, a large bag, etc. I'm a complete believer in the saying "less is more." If I opt for statement earrings, I don't wear a necklace, or if I do, it's something very dainty. Don't feel like you have to wear an accessory for each category. Your accessories should add to your outfit, but they shouldn't be the main star of the show – that's you 😉 .
PLAN AHEAD
If you guys are anything like me, you're looking for a dress for an event SO last minute. I always struggle with these kinds of things because I'm such a procrastinator, and while finding the dress/jumpsuit/dressy outfit may always still be a challenge, stocking up on accessories is something we can do all year round. I like to have neutral accessories on hand so that if I need something for an event, I have it. For example, black/silver/gold statement earrings, a neutral colored clutch, and neutral colored heels. These accessories can for the most part, go with any outfit. This always saves me when I have a last minute blog event I need to dress up for or I have an occasion where I need to impress.
TAKE IT UP A NOTCH WITH A STOLE
Okay, I will admit that I feel like a rookie right now, because I just figured out recently what a stole is. I knew what it looked like, however, I guess I just didn't realize that there was a name for it! A stole is essentially a scarf or shawl that is worn around the shoulders. There's a ton of faux fur options that are in style right now and I can't help but thinking how amazing they would look with a long peacoat. A stole is the perfect accessory to wear to make a statement when you walk in to your next holiday party.
WEAR HAIR ACCESSORIES
If you're anything like me, you don't get THAT many chances to dress up throughout the year… And I love getting the chance to dress up! Unfortunately, I just don't the chance very often. So why not go full out? A hair accessory is the perfect way to make a statement and stand out from how you look every other day. I'm loving this inspiration from Pinterest here, here, + here for holiday hair!
Have any tips for how to accessorize a holiday outfit? Let me know in the comments. I'd love to know all of your holiday styling hacks! You can purchase your own Anne Klein watch (or for someone on your Christmas list) here!